PCD-1100/3C – Drill Line
The ADVANTAGE-2-CNC DRILL LINE is the latest addition to the Redd Iron. This machine offers us the latest in CNC technology, the first from Peddinghaus to offer options such as: 5 station auto tool changer, lead screw spindle motion, which allows more options such as: tapping, countersinking, and milling of slotted holes in structural members.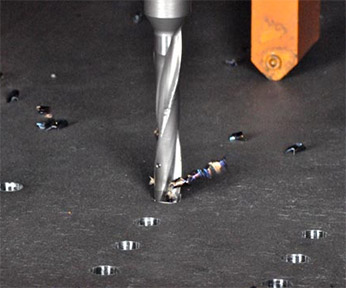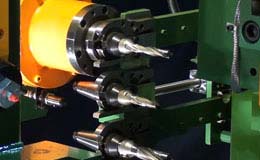 5 Station Tool Changer
With a machine as versatile as the Advantage 2, a robust tool change method is required to maintain ultimate efficiency. The automatic tool changing stations are located on each drilling axes.
The tool changing stations have a unique machined holder design that ensures all tools are securely held within their station regardless of weight, or length.
When compared to primitive tool changer designs that rely upon tension wire springs for minimal tool support, the Advantage 2 reigns supreme.
Layout/Part Marking
Automated layout with the advantage 2 is cutting edge. Set it for full layout or for a faster production set for abbreviated layout marking. In today's turnkey job schedules this feature not only gives you speed but also alleviates a lot of the human element & possible mistakes. Straight from 3D modeling to machine to steel this option has added the most quality to the process.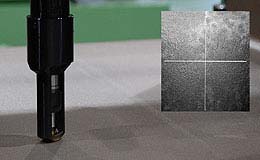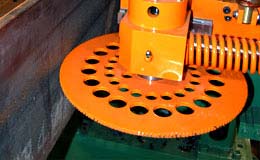 Roller Measurement
The rolling measurement system on this machine allows for the imperfections in structural steel to product accuracy within 1/32" and a strong in feed drive roller mechanism to push 20,000lbs members. By applying 2 encoders simultaneously the accuracy is reliable with a failsafe system that ensures quality measurements every time.