Redd Iron Inc. - Structural & Misc. Steel Fabricator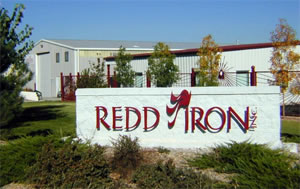 Redd Iron, Inc. has been in business in the Denver metro area since April 1st, 1998. We specialize in miscellaneous and structural steel fabrication. With over 15,000 square feet of fabrication space and the latest in fabrication technology we will continue to grow as a first class steel fabricator.
The demand for Redd Iron Inc has grown over the last several years. In order for us to mature with our customers it became necessary to increase our capabilities. So, last fall we invested in a new CNC drill line and saw from Peddinghaus. The installation was worthy enough to be featured in the Winter Addition of the Steel Fabricators Review published by Peddinghaus. Please take a moment and check out our exciting article in the Steel Fabricators Review
Redd Iron Inc. is committed to servicing the structural and miscellaneous steel market in the Denver area and surrounding Front Range with honesty and responsibility, while providing a quality product. We intend to achieve this by cultivating a customer base of companies that place as much emphasis on service, quality, and product knowledge as price. Our management staff firmly believes that the "people" in a company make a company's reputation as much as by their product. This means providing the best job performance you can all the time for all of your customers.
Redd Iron, Inc. | 303.288.4494 | 10421 E. 106th Ave. | Brighton, CO 80601